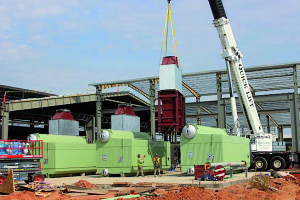 As construction continues at the Winston Plywood plant in Louisville, the plant recently installed one of the most important pieces of equipment critical to its operations.

McCain Engineering out of Jackson has installed boilers that will allow the plant to operate. The boilers provide the supply pressure steam to the processes in the plant from the press, vaults, and to the dryers. The company oversaw the receiving and placement of the boilers, which are some the largest in the Southeast. The boilers were transported on the roadway from West Point.
Jonathan McMillin of McCain Engineering worked as project manager for this project. "These boilers are basically the heartbeat of the plant," McMillin said. "This was a highly coordinated project with some many persons helping to meet the deadline and get all in place."
McMillin, a Winston County native, explained it was his familiarity with Winston County and the companies that could help locally that help get the project completed on time.
"Everyone from the city, Parker Electric, Klockner (Temtco Steel), and some many more were instrumental in getting it done," said McMillin.
With several companies working on site and Winston Plywood personnel making sure to lineup everything, McMillin noted the coordination worked well to keep all on schedule.
"Our employees went above and beyond to complete the project as well as all those we worked with like Century Construction, Yates, Winston Plywood and others," said McMillin.
When Winston Plywood starts production next March, it will be a state-of-the-art facility. It will focus on the environment, the worker and efficiency. The 300,000-square-foot facility when completed should be able to churn out 400 million feet of plywood every year with the boilers running at full steam.
Read the whole story here: Winston Plywood receives and places boilers | Winston County Journal