Governor Phil Bryant recently visited the future site of the world-class plywood facility Winston Plywood in Louisville on Sept. 25.
Gov. Bryant along with several of his counterparts including Joey Hood of District 35 and Senator Giles Ward of District 18, were updated on the project and the 150 jobs it will bring when the doors open on the facility in 2016.
Winston Plywood Vice President of Human Resources and Community Relations David Morel and Controller David Jarnigan talked with Gov. Bryant, Hood and Ward about the facility and the future plans for the project along with the effects the project would have on the county, area and state as a whole.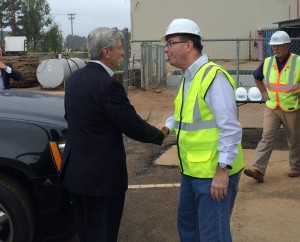 Source: Governor visits for update on Winston Plywood | Winston County Journal
Read the whole story here.